Healthcare professionals and patients across Saudi Arabia benefit from Moodle based learning platform

Moodle Premium Certified Service Provider Eummena and Cloud Solutions join forces to deliver interactive professional development on Moodle LMS to healthcare professionals in hospitals across Saudi Arabia.

About – Leading Saudi Arabian IT services provider tasked with developing a multifaceted learning platform


Cloud Solutions is a leading IT services provider in Saudi Arabia with a mission to provide best-in class, cost effective global solutions to healthcare organizations in the Gulf and Middle Eastern countries. With more than 15 years experience servicing the market needs across public and the private sectors, Cloud Solutions was challenged with developing a platform to assist medical and healthcare professionals stay updated with the features and protocols of Saudi Arabian hospitals VIDA Health Information System (HIS). This included developing a solution for onboarding, professional development and certification for health professionals across 50 plus hospitals in the Kingdom of Saudi Arabia. With a variety of different healthcare professionals user groups including hospital admins, dieticians, nurses, physicians, doctors, and pharmacists, it was identified that the platform needed to provide flexibility to differentiate courses for user groups, accommodate a wide range of technological ability through an easy to navigate interface, and be underpinned by open source technology to allow for scalability and security.

Approach – A learning platform to enable onboarding, professional development, and certification for healthcare professionals

With the support of Moodle Premium Certified Service Provider Eummena, Cloud Solutions has developed a Moodle-based LMS "Cloud Solutions Academy" to provide a continuous professional development tool to ensure healthcare professionals employed by Saudi Arabian hospitals remain up to date with constantly evolving medical systems and procedures.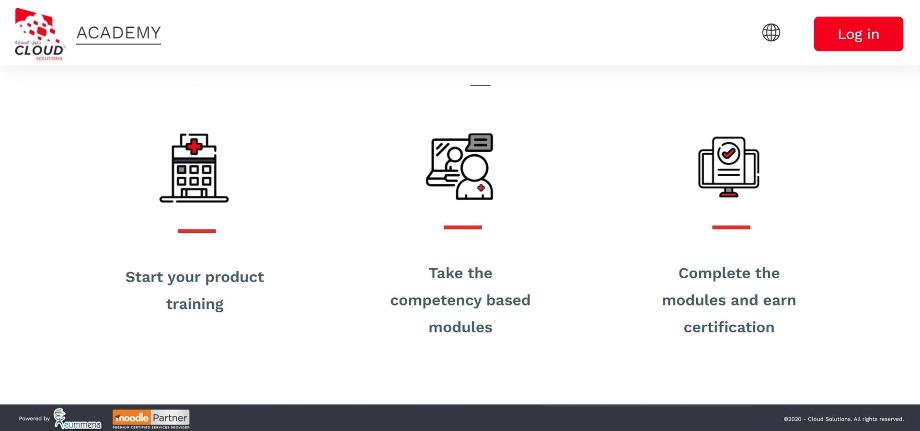 The platform hosts the content and activities related to on-boarding and training new hospital employees in the use of the VIDA Health Information System (HIS). HIS is an enterprise-scale information system that connects all stakeholders of the healthcare ecosystem securely, accurately and in real time. It integrates applications into a seamless workflow of administrative and clinical events.

The Moodle platform developed serves as a knowledge base, with more than 31 modules covering the HIS domains. The modules include concise and well organized learning content that is delivered asynchronously. Learner engagement is ensured through the delivery of interactive resources and activities incorporating formative assessments which culminate in quizzes at the end of each module. When participants complete the modules and achieve the required grade in the assigned quizzes, they acquire their certification.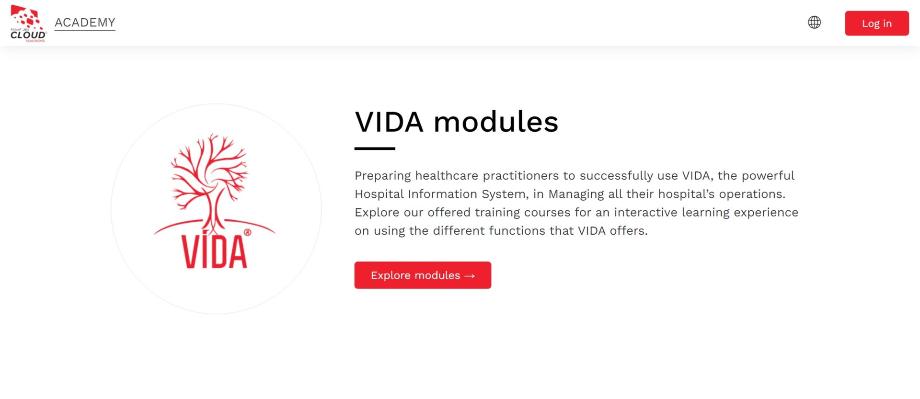 Solution – Eummena oversees the development of a multifaceted Moodle based learning platform

Moodle Premium Certified Service Provider Eummena is a multidisciplinary hands-on team of advisors and researchers actively engaged in large international initiatives covering the latest and future trends in educational technologies and digital capacity building and transformation. With a history of delivering state of the art Moodle-based solutions across the Middle East, Cloud Solutions selected Eummena as their project partner and concurrently Moodle LMS as the open source platform that would support functional and business objectives.
Eummena facilitated the development of a multifaceted Moodle LMS platform for Cloud Solutions including installation, integrations, theme and course design.

Installation & Integrations
Moodle LMS is integrated with the Health Information System (HIS) to provide an accessible option for health industry workers looking for continuous professional development through single sign-on (SSO). Most importantly, this ensures a stable system whilst also serving a large number of concurrent users.

Theming & Customization
The system was customized in look-and-feel and features to offer a seamless transition between technology environments. This branding has been carried through to the mobile application and offers custom theming for elements like the H5P authoring tool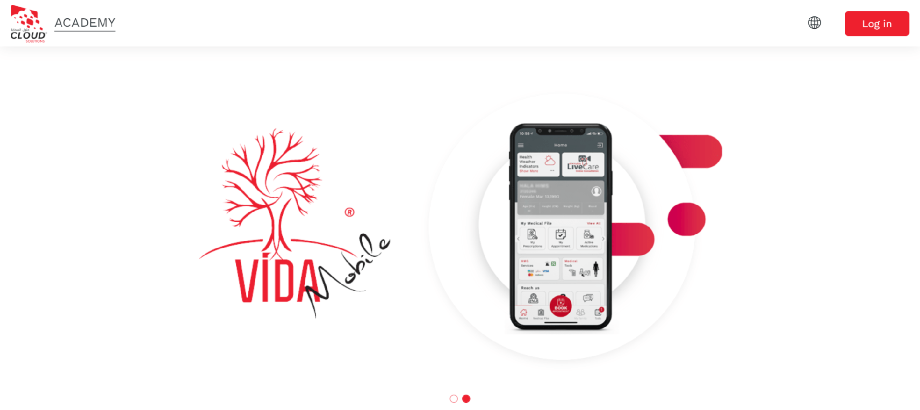 Course Content
Thirty one modules are hosted on the learning management system.These modules were created to suit the different learning journeys of the respective professionals working in the healthcare sector. For instance, doctors may work in different departments and/or different specialties and this impacts the learning journey and modules that they must complete. Equally, nurses, technicians, and the admins of the hospital must complete a series of different modules to be certified in their area. The choice of Moodle allowed for modules to be assigned and scheduled alongside shared centralized content for different healthcare professional groups.
The module delivery design is practically focused and interactive, through guided video lessons that prompt the viewer to answer questions about the content or rehearse what is being learned as part of the learning experience.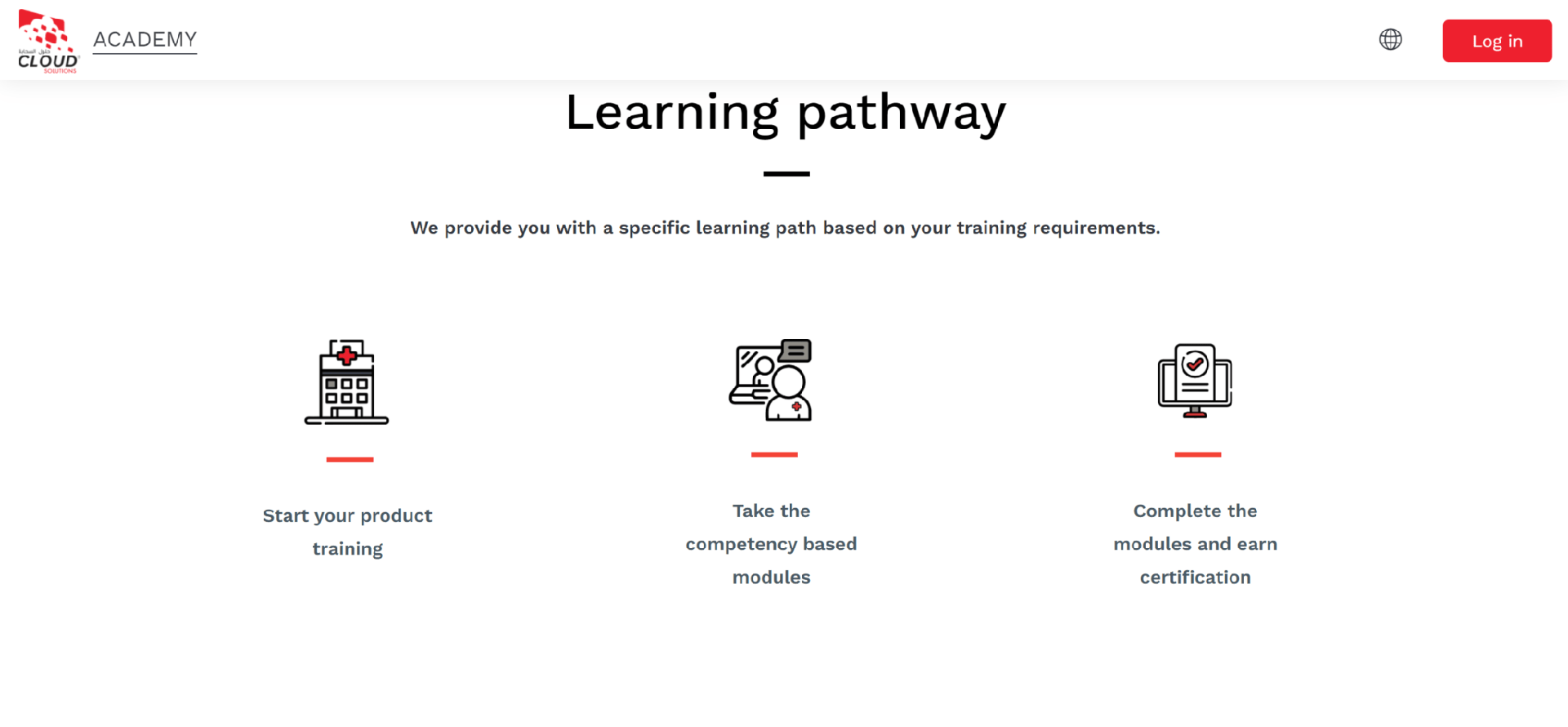 Competencies
Competencies are used to track the specific learning paths for the different beneficiaries, and are assessed based on the competency profile.

Certificates
Based on their performance and successful completion of modules, Moodle generates certificates which support the attainment of professional qualifications and these are added to individual participants' HR profiles.

Results – Improving the quality of care across the Saudi Arabian hospitals

While the platform is in its infancy, it has already delivered benefits to administrative staff and healthcare professionals across 50 hospitals in Saudi Arabia. The move to a centralized Moodle platform has delivered a significant improvement in efficiency and accuracy of professional learning across healthcare professional user groups. Through the online delivery model, participants can complete engaging and relevant course content when convenient to their professional schedule, whilst the system also ensures the completion of modules within required time frames. The administrative burden of delivering and tracking the attainment of professional competency has reduced, whilst the security of delivering training materials is cemented. Ultimately, this has improved the efficacy of the HIS across hospitals in Saudi Arabia which has enhanced access to accurate and meaningful information within the healthcare ecosystem. By improving the management of patient administrative, clinical and financial data, the system has contributed to improved decision making and ultimately the care and outcomes for hospital patients across Saudi Arabia.