Background
---
All of us at Eummena are happy to share a story from our latest work, one that highlights the way Moodle partners are committed above all to the core mission of Moodle: Empowering educators to improve our world. Especially when this "Educator" is the European Union!
Not too long ago, we were discussing on the Moodle partners forum on the ways Moodle can serve the EU's newly built learning platform, codenamed "eu | academy". We were directly interested, both for our origins being in the heart of Europe and for really wanting to take the best out of Moodle and provide "quality of the application of knowledge on EU-matters in a simple, smart and inspirational way" for a huge audience of life-long learners / citizens.
After some discussions with Tremend, the Moodle partner responsible for the implementation of EU Academy, we agreed to join forces and offer our technical expertise towards the shared goal.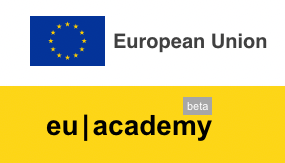 The Challenge
We were very happy and privileged to work with Tremend's team for the last 3 months, focusing on providing a resilient, highly available and performant infrastructure that can easily scale for serving the increasing usage of EU Academy. Our team was called to assist and consult on the design of the cloud-computing infrastructure for this very large-scale installation of Moodle, capable of serving millions of registered learners.
Furthermore, we worked with Tremend's team to review the existing implementation and ensure it's easily upgradable with every new Moodle release and ease its manageability with devops automations.



About EU Academy

EU Academy is European Union's official online hub of high quality educational resources and courses directly produced by EU institutions and experts for individuals across EU whose work or interests are in EU's sphere of action.
The aim of the platform is to facilitate their easy and smooth understanding and successful implementation of EU policies in a wide array of fields. The mission of the EU Academy is to provide a modern and engaging learning environment that can foster and improve the quality of the application of knowledge on EU-matters in a simple, smart and inspirational way.