A Certified Service Provider since 2019 and Premium Certified Service Provider since 2020, Eummena extends its impact in Europe and the EMEA region by becoming a Moodle Premium Certified Service Provider in Belgium.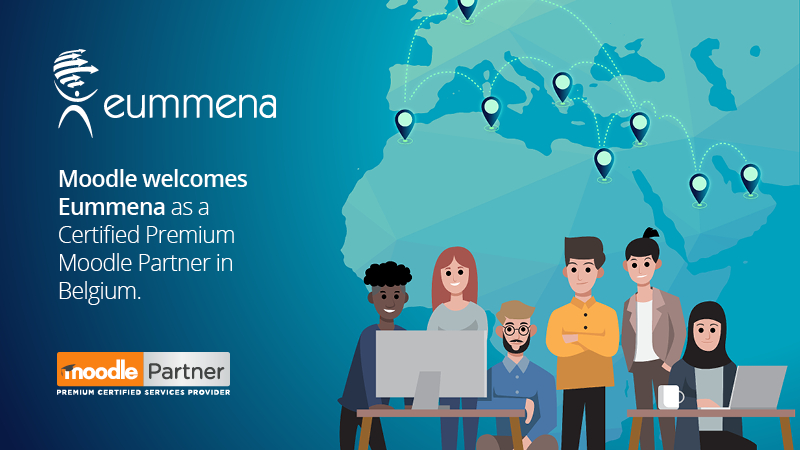 Eummena's origins began in Belgium at KULeuven, one of the most innovative universities in the world. Being part of the Leuven MindGate and innovation ecosystem, Eummena has been at the forefront of educational innovation. Their multidisciplinary hands-on advisors and researchers have engaged in large international initiatives covering the latest trends in educational technologies, digital capacity building and transformation across many countries.
"We have been working on transferring EdTech innovation from Europe to the MENA region since our inception. It's high time we complete the cycle by formally becoming a Premium Moodle Partner in Belgium, and we are thrilled about it", says Jad Najjar, Managing Director of Eummena.
A customer focussed approach
With a focus on understanding the unique needs of different markets, Eummena's capacity to adapt to new business models and demands is pivotal to the company's success. In addition to offering a wide range of Moodle services to industry, public institutions and educational organisations across the United Arab Emirates, Saudi Arabia, Morocco, Tunisia, Egypt, Lebanon, and Palestine, Eummena will now embed its presence in Europe in becoming a Premium Certified Service Provider in Belgium.  
"We put value in the epicentre of our offerings and we adapt our packages using our deep knowledge for each market to offer services and products that elevate our clients' business," says Najjar.
Eummena has extensive expertise in customisations and hosting services for Moodle solutions and central to all their projects, irrespective of location, is the desire to put humans first and empower their customers to get the most out of the Moodle platforms through hosting, implementation, training, and bespoke development services, bundled with premium support and coaching.
Advancing ed-tech across sectors 
In becoming a Premium Certified Service Provider in Belgium, Eummena's goal is to advance the adoption of Moodle and open source EdTech in Belgium and beyond.  
Najjar explains,
"We take pride in all projects, small or big, but we have a soft spot for projects that impact society and support social issues and causes. We have established an ongoing collaboration with organisations such as Enabel, GIZ and UNESCO in multiple areas around the globe, using Moodle to impact people's lives."

In addition, Eummena Belgium will serve the increasing demand for solutions in enterprise learning management through Moodle Workplace. This will include supporting the adoption of e-learning for workforce development and professional training, employee onboarding, compliance training, certification, reporting and automation.
---
Eummena - your EdTech success partner

Eummena brings together experts in all areas of technology-enhanced learning, learning technologies standardisation, e-learning resources, e-content, metadata for skills records, job profiles, professional learning, lifelong learning, awareness-raising and policymaking. Their expertise in deploying and managing large scale systems based on Moodle has allowed them to achieve rapid expansion with a prestigious list of clients including UNESCO, Ocean Teacher Academy, Deloittes (collaboration across different customers in the MENA region), Ministry of Health Saudi Arabia – Public Health Academy, Princess Noura University – Saudi Arabia and Australian College in Kuwait.