Τoday we celebrate. Today we are happy. Happy and grateful beyond words. And as it usually happens with awards, we feel an inner urge to reflect and appreciate. Please join us. 
When we embarked on our Moodle journey, a little after Moodle was born, we became part of a small, yet determined community. The community grew, and with it, we grew too. Back then, we were just like most of you, Moodle users. And then, Moodle developers, tinkering under the hood, extending and customising the platform.

Fast forward to 2019 when we decided to turn a fifteen-year-old flirt, into something more. Thus, we became a Moodle Partner, entering an exclusive group of 90 or so, partners. All guided by a common aspiration, to work hard to keep Moodle LMS open, and to support Open Ed-Tech. 

A year later, at a record-breaking pace, we managed to become a Premium Moodle Partner, being recognised for our expertise and continuous contribution to Moodle. 

Two years after that, we are delighted to have been named, the Branded Moodle App Contributor of the Year for 2022. This is our first official Moodle Award. In reality we possess many more. Awards that we get daily as we address challenges for our amazing customers. 

In 2022, through Eummena and Moodle HQ, a series of Branded Moodle Apps where launched in nine (9) countries, namely Belgium, Saudi Arabia, Turkey, Ethiopia, UK, Egypt, Palestine, Sudan and Tunisia.


Branded Moodle App Contributor of the Year: Eummena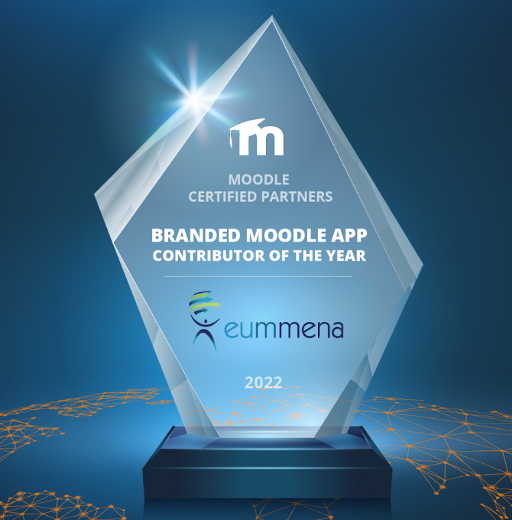 For Moodle LMS and Moodle Workplace, the Branded Moodle App is a must-have for any institution that really wants to offer learning on-the-go, to its learners. Being able to offer the LMS courses offline, sync learner progress and receive push notifications, transforms the entire experience and practically allows the learners to have their LMS with them, whenever they are. Despite the fact that Moodle LMS and Moodle Workplace are mobile-friendly and adaptive, the flexibility that the BMA offers, is unparalleled. And of course, setting up a BMA allows our customers to market their offerings more efficiently and professionally. But, don't take our word for it, head to the BMA page, and explore the options for yourself. 
This award will always hold a special place in our hearts, not only because it's the first one. This is a special award because we feel that we won it together with the amazing team from Moodle HQ. Without the help, hard work and dedication from the Moodle Apps team, we wouldn't have been able to celebrate this achievement. 
Trip down memory lane completed. Thank you for joining. We hope that will have excuses to celebrate next year as well. If you excuse us now, we need to make some room in the trophy case. 
Last but not least, we want to give a huge shoutout, to all the other partners that were awarded one or more awards in our annual ceremony, and to all the Partners for doing their best for yet another year.
Eummena out
Launched in 2019, the Moodle Certified Partner Awards acknowledge the exceptional work of Moodle Certified Partners and Moodle Premium Certified Partners in helping education institutions and organisations transition to, or upscale, their eLearning platforms. With over 100 Moodle Certified Partners in over 50 countries and multiple languages across the world, These awards celebrate the outstanding work done by Moodle partners network over the last year.